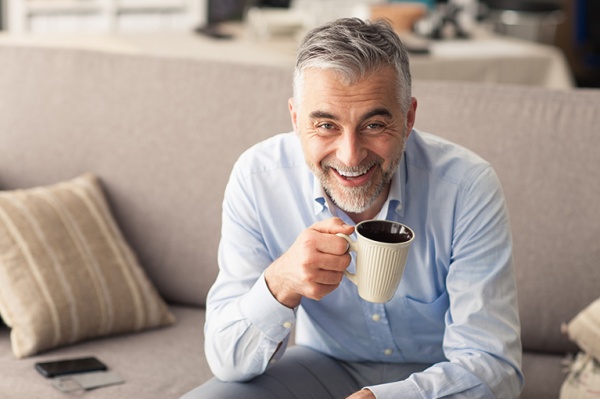 Take Your Smile
Back in Time
At Today's Dental, suffering the damage or loss of a tooth doesn't have to put a damper on your smile. We know that broken and missing teeth can make it difficult to enjoy eating, to speak naturally, and to smile with confidence. You don't realize how important a healthy smile is until it becomes compromised. Thankfully, Dr. Gauthier is a highly accredited restorative dentist in Alexandria and has helped many patients regain confidence in a healthy smile with our modern restorative options that look, feel and function just like natural teeth.
Advanced Technology & Materials
Dr. Gauthier and our team at Today's Dental take pride in the level of clinical excellence we provide for our patients. That means we invest in the most advanced technology to bring our patients the best solutions and treatment options available. All of our dental restorations are created with high precision technology and durable, natural looking ceramics (porcelain) to mimic your natural teeth in every way.
Whether you need a tooth, multiple teeth, or all your teeth repaired or replaced, we create each restoration with the utmost care to bring your smile back to its healthy, functioning, beautiful condition. With restorative dentistry at Today's Dental, your new smile will stand up to the test of time.
Crowns
If you have a tooth that's been badly decayed or broken, we may be able to restore it with the help of a porcelain crown. Crowns are tooth-shaped caps that are fitted over any remaining tooth structure. Crowns do require some preparation of the natural tooth to place.
To have a crown placed usually requires at least two visits to the dental office.
Your first visit includes impressions, which are then sent to our off-site dental lab to have the crown created.
We will then prepare the tooth for the crown, removing any excess tooth structure to ensure the best fit and strongest bond.
We will place a temporary crown for you to wear while your final crown is being created, and you will return a couple weeks later to have the final crown placed.
If you are missing a tooth, or are looking for a full crown to go over a dental implant, we also offer implant crowns for added stability and jawbone health. A dental implant and a crown is the only single tooth solution for a single tooth problem, and we can complete the whole process right here in house.
If you have a damaged or missing tooth, we would love to speak with you about a restoration with a crown.
Bridges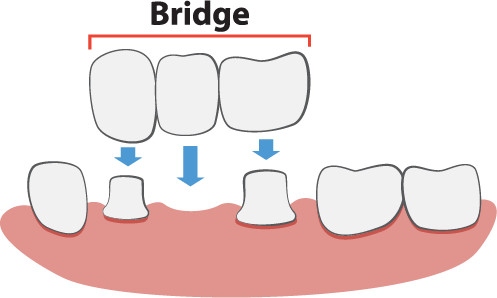 If you are missing a single tooth or multiple teeth, you may be a perfect candidate for a dental bridge. A bridge consists of one or more fabricated teeth, usually anchored to surrounding teeth with the help of crowns on either side. There are several types of bridges (fixed and removable) to suit your individual needs. Fixed bridges do require some preparation of the anchoring teeth to secure.
Bridges can help:
Restore balance back to your smile

Fill in the gap and prevent surrounding teeth from shifting and rotating

Protect your alignment, bite and TMJ health

Allow you to enjoy eating, speaking, and smiling with confidence again
If you are missing a single tooth and are not a candidate for dental implants, a bridge is your next best option. If you are a candidate for dental implants, we highly recommend securing your bridge and stabilizing your jawbone with dental implants.
If you're missing one or more teeth, don't wait around for other problems to arise before seeking treatment. Protect your smile and improve your quality of life with a beautiful, natural looking bridge from Today's Dental.
Dentures
If you're missing most or all of your natural teeth or living with ill-fitting dentures that rock and slip, we would love to help you get your smile, your confidence, and quality of life back with our modern denture options.
Today, dentures are a much different experience than those of your grandparents. Modern dentures are sleeker, more comfortable, more natural looking, and better functioning than ever before. Many of our denture patients find they don't even need adhesives to keep them in place.
Implant Supported Dentures
If you are a candidate for dental implants and are looking for the best option for replacing all of your teeth, we highly recommend implant supported dentures. Dental implants prevent the jawbone from deteriorating, which causes that sunken face appearance you've seen in patients with missing teeth or old traditional dentures.
Prevent gum tissue and jawbone loss
Stimulate new bone and tissue growth
Prevent sunken face and premature aging
Securely lock dentures in place
Permanent, fixed set of teeth
Freedom from removable dentures
Clean and maintain like natural teeth
Enjoy your favorite foods
Smile with confidence again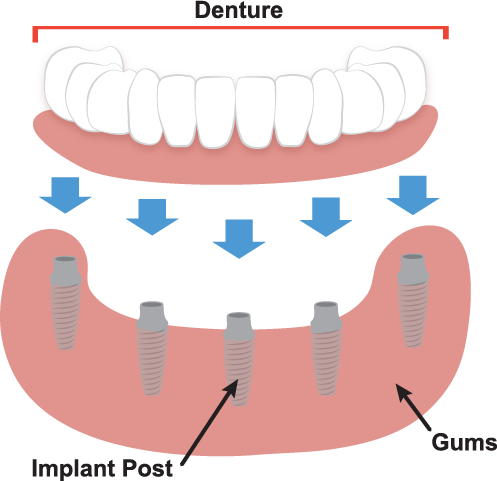 If you're considering dentures for the first time, or are thinking about an upgrade, we would love to help you improve your smile and your quality of life with our modern denture options.
If you have any questions about restorative dentistry or would like to schedule an appointment with your Alexandria restorative dentist, give us a call today or request an appointment online! We look forward to smiling with you.