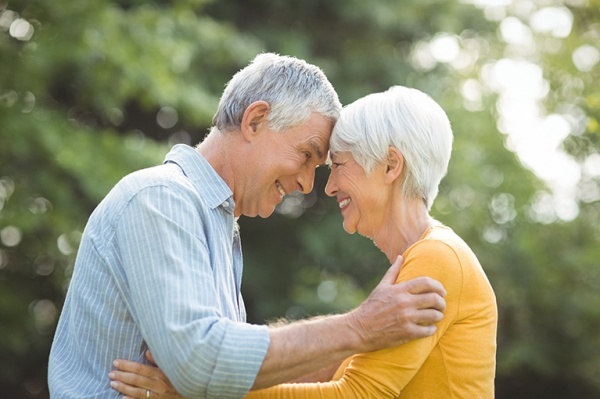 Secure Your Smile & Invest in Your Future
If you're one of millions of Americans suffering from missing teeth, you understand the consequences it can have for your daily life. Most people don't realize how important healthy teeth are until they don't have them anymore. Even after tooth loss, while the functional and aesthetic consequences are obvious, many patients don't realize the impact it can have beneath the surface. Thankfully, Dr. Jonas Gauthier at Today's Dental has received extensive advanced training in the surgical placement and restoration of dental implants and can complete the whole process from the comfort of your dental home.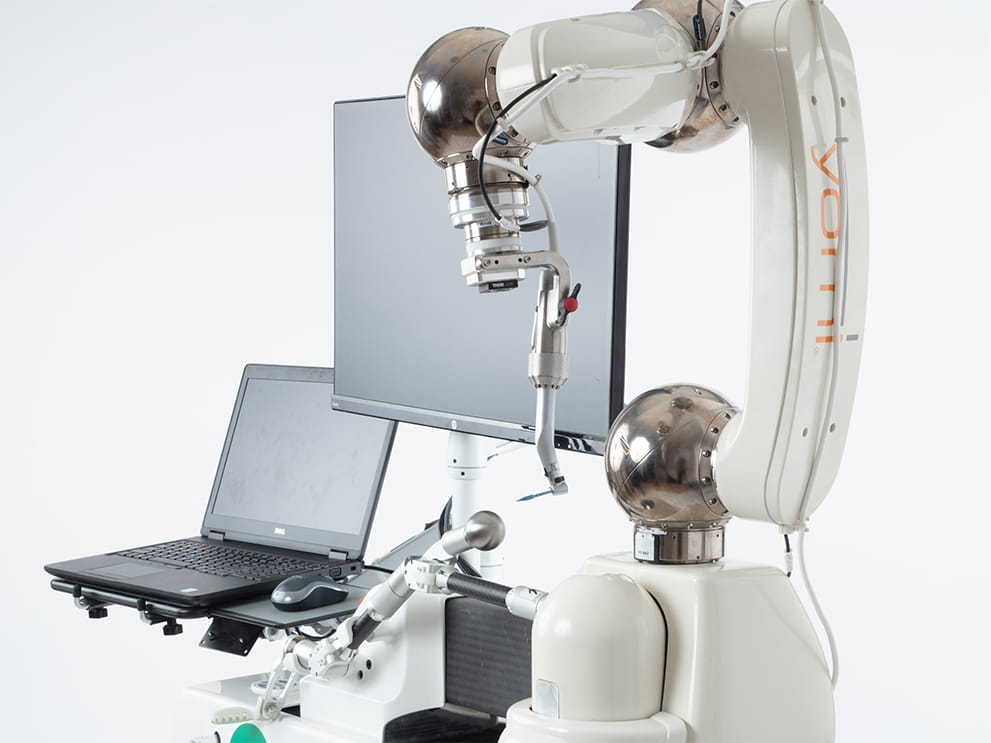 Dr. Gauthier just became the first dentist in the state to offer robotic dentistry.
The Yomi robot allows us to perform minimally invasive implant surgery which means less pain and less recovery time than traditional surgery. This surgical guidance system is a new level of safety and precision that leaves you happy and smiling sooner. Sinuses and nerves are always a concern when placing implants and the robot is the GPS that helps us be incredibly precise, which is important because a fraction of a millimeter or half a degree in the implant angle can make a huge difference in long-term outcome and immediate recovery time.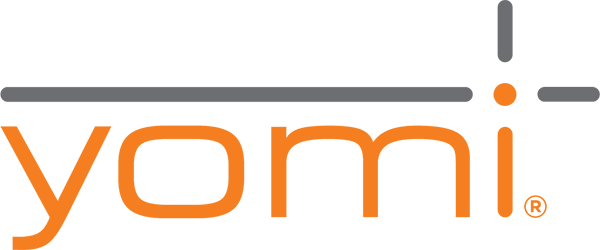 Consequences of Missing Teeth
Before we go into the details of what dental implants are and how they can benefit patients with missing teeth, we think it's important for patients to know what happens to your mouth and jawbone when missing teeth are left untreated.
Surrounding teeth shift and rotate to fill the space.
Tooth movement can cause changes to your alignment and bite.
Alignment and bite changes can cause TMJ problems.
Without the support of the tooth root, gum tissue deteriorates.
Underlying jawbone begins to deteriorate or atrophy.
Jawbone deterioration causes sunken face appearance.
Sunken face causes premature aging.
It is difficult to eat a healthy diet.
Speech patterns may be affected.
Confidence suffers.
What are Dental Implants?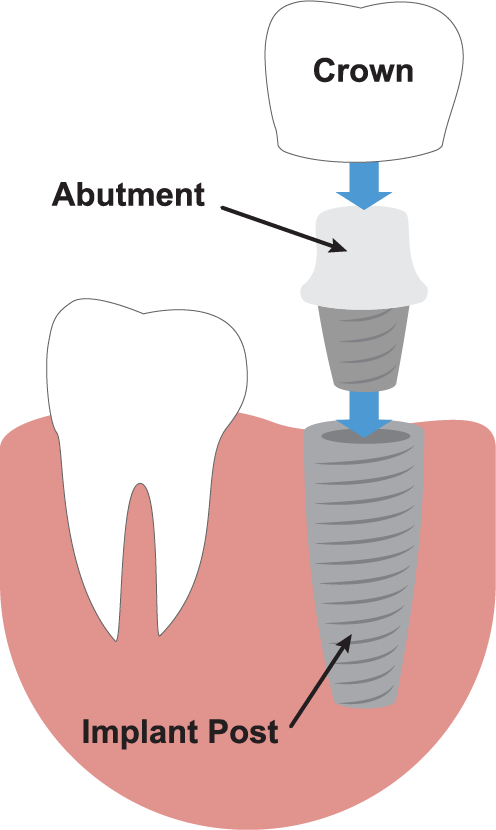 Dental implants are the most recommended tooth replacement solution today – by doctors and patients alike. That's because traditional tooth replacements (bridges, partials, and dentures) that sit on top of the gums only replace the crown or the visible portion of the tooth. They do nothing to replace the tooth root beneath the surface of the gums. Enter dental implants.Dental implants are typically made from titanium and are small screws or posts that are surgically inserted into the gums and jawbone to replace a missing tooth. Once the healing process begins, dental implants actually become fused into the jawbone, stimulating new bone and tissue growth around the implant and becoming a fully integrated, fully functioning component of your oral health structure.
Once healed, Dr. Gauthier can fit your implant with a beautiful restoration to complete and secure your smile.
Benefits of Dental Implants
There are many benefits in replacing missing teeth and stabilizing dentures with dental implants, including:
High success rate and can last a lifetime
Prevent surrounding teeth from moving
Prevent alignment and bite changes
Maintain TMJ health
Prevent gum tissue and jawbone deterioration
Stimulate new bone and tissue growth
Prevent sunken face and premature aging
Freedom from removable appliances and dentures
Look, feel and function just like natural teeth
Clean and maintain like natural teeth
Enjoy your favorite foods again
Regain normal speech patterns
Smile with confidence again
Implant Supported Dentures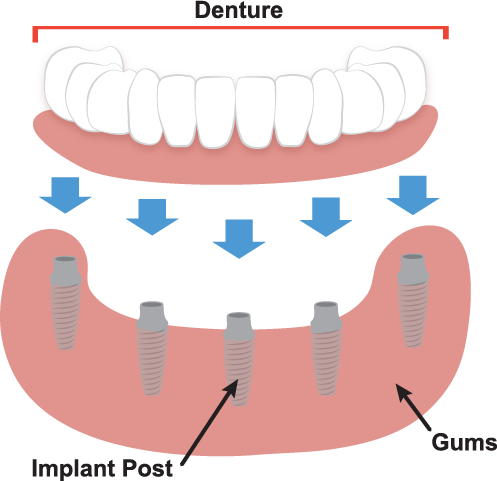 If you're missing most or all of your natural teeth and are considering dentures for the first time, or are living with traditional dentures that are getting in the way of your life, we would love to help you secure your smile with implant supported dentures. Implant supported dentures offer all of the functional, health and aesthetic benefits of dental implants, while securely locking your dentures in place for the most life-like solution.
We offer a snap on denture option which is to be removed nightly for cleaning and soaking. We also offer a permanent implant denture option that screws the denture into place. This option does not have to be removed for cleaning, and should only be removed by your Pineville dentist. This is the most secure, life-like way to replace a full arch. The number of implants and the way they are attached will depend on your individual case.
Implant dentures are sleeker and much less invasive than traditional dentures that have a lot of synthetic gum tissue and cover the roof of your mouth. Implant supported upper dentures don't cover the roof of your mouth, so it feels more natural and allows you to taste and sense the temperature of your food better.
Implant Options
OsteoReady Implants
OsteoReady implants are conventional implants, specifically designed to replace a single tooth or multiple teeth or to secure an existing partial or denture for a more stable and comfortable fit. OsteoReady implants allow your crown, bridge, partial or denture to snap on or screw into place.
Mini Implants
If you are not a candidate for or may have trouble affording OsteoReady traditional implants, we may still have a solution for you with mini implants. Mini implants are smaller than traditional implants, so they require less jawbone density to place and are generally a more affordable option. Mini implants cannot replace a single tooth but can serve as anchors for bridges, partials or dentures.
The Process
If you're suffering from missing teeth or traditional dentures that are preventing you from living your life to the fullest, we would love to speak with you about all of our wonderful dental implant options. Dr. Gauthier will sit down with you in a comprehensive consultation to assess your needs and determine an ideal treatment plan just for you.
Dr. Gauthier has the advanced training and cutting edge technology to surgically place implants with exact precision right here from the comfort of your dental home. Once your implants are placed, a healing period of about four to six months is required for optimum healing and integration.
We can usually fit you with a temporary stabilizing restoration to be worn through the healing process. Having a dental implant placed is usually a fairly painless process, although there may be some discomfort following any oral surgery procedure. We will give you specific post-op instructions to follow to ensure optimum healing.
Once the implant has fused with the jawbone, you will return to have the final restoration placed, and you'll go home with a fully secured, beautiful new smile.
If you have any questions about dental implants or would like to schedule a consultation with your Alexandria implant dentist, Dr. Jonas Gauthier at Today's Dental, give us a call today or schedule a visit online!