Stop Brushing After You Eat – Do This Instead
Posted on May 27th, 2021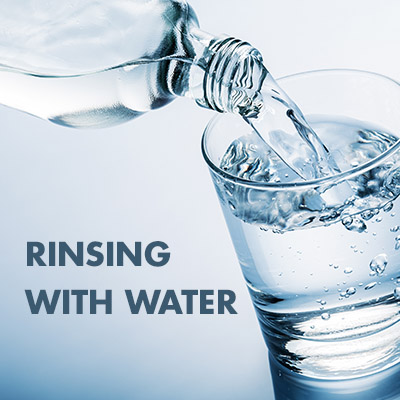 For a long time, we've been told to brush our teeth right after we eat, but conventional wisdom might be changing on that. Thanks to your mouth's powerful and natural ability to clean itself, rinsing with water might actually be the best way to freshen your breath and prevent cavities after you eat. 
In addition to your everyday hygiene routine, rinsing with water is a free, easy way to maintain oral health throughout the day. To understand this, read below about what happens in your mouth after you eat and why water is so great for your teeth. 
Digestion Begins in Your Mouth
You might think that digestion starts in your stomach, but it actually starts in your mouth! The combination of chewing your food and the special bacteria in your mouth are essential to swallowing and digesting your food. Probiotics are specific bacteria that live in your mouth every day and begin the whole process of digestion by breaking down your food on a microscopic level.
In our world today, we're trained to think of bacteria as all bad and dangerous, but that's simply not the case. Oral bacteria are natural and important for your health. Of course, bad bacteria do exist (pathogens), but you'd be lost without the help of probiotics that break down food and help keep your mouth clean. After you eat, these bacteria get their own meal from the tiny leftovers of food on your teeth and gums. The byproduct of this bacterial feast is acid, which can damage your enamel and cause tooth decay.
Cavities
It's normal for some amount of food to be left behind in your mouth after eating, but frequent snacking and foods high in sugar put you at extra risk for cavities. The constant presence of food on your teeth—especially sugar—makes the bacteria and plaque in your mouth produce too much acid. Acid can break down your enamel, especially when combined with the force of brushing.
Cavities are holes in your tooth enamel that threaten your tooth and oral health. The enamel protects and strengthens your tooth and it can't be rebuilt once it starts to decay. Kids and adults of any age can develop a cavity. Cavities can cause pain and inflammation and usually need a filling to restore the tooth to health. 
You can prevent cavities with good oral hygiene. This includes:
Brushing your teeth twice per day, for two minutes at a time

Flossing once per day

Rinsing with mouthwash or water between meals

Seeing the dentist twice every year
Rinsing with Water Fights Cavities
A quick rinse with water in your mouth will boost your body's natural ability to clean itself after a meal. Rinsing with water protects your enamel by removing food and sugar left over, and about 30% of oral bacteria without the forces of brushing that—when combined with acid—can damage your enamel. Just be sure to spit out the water when you're done, as swallowing will only introduce the bacteria into your body further and cause problems for your systemic health.
Some people may prefer the minty flavors of mouthwash, and some people are prescribed a special mouthwash for infections (gum disease) or sensitivity. But if you're out and about, or just don't have any mouthwash on hand, water is a great alternative for keeping your mouth clean between brushing. 
So after you eat anything, it's a good idea to quickly rinse out your mouth with water. It's an easy and free way to instantly boost your oral health. Rinsing with water is better for your teeth than brushing them right after you eat if you wish to avoid damage to your enamel.
Drinking Water
Drinking water is also a great way to maintain oral and overall health. Saliva naturally protects your mouth by maintaining a proper pH balance that minimizes bacterial growth, and staying hydrated ensures you have healthy saliva levels. When your mouth is dry, your pH becomes acidic, and disease, decay, and bacteria can thrive. Keep your mouth and body functioning at peak performance by drinking six to eight glasses of water a day.
If you have more questions or any oral health need,  Dr. Jonas Gauthier at Today's Dental in Pineville is taking new patients. Make an appointment today and let our professional team give you a smile you love!
The content of this blog is not intended to be a substitute for professional medical advice, diagnosis, o
Written by Jonas E. Gauthier