Pregnant Moms & Oral Health: Brushing & Flossing for Two
Posted on November 13th, 2022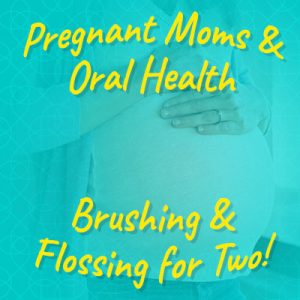 There are so many things to be concerned about when you find out you're expecting. Eating right, taking enough vitamins, getting enough rest, telling your husband there is absolutely no way you are naming your firstborn son Bud Light… but what about your teeth? There's an old saying—"you lose a tooth for every baby"—but those beliefs are outdated, thank goodness! Still, Dr. Jonas Gauthier at Today's Dental has some important information to share about pregnancy and oral health.


Taking Care of Yourself
is
Taking Care of Your Baby
Moms-to-be can become so focused on preparation for the new bundle of joy that they neglect their own health—but try to remember that taking care of yourself is taking care of your baby. If you are pregnant, remain proactive about your oral hygiene routine and don't skip your regular dental visits. Your teeth and gums need special attention during this time, so be on the alert for symptoms like bleeding gums and dry mouth. 
Gingivitis & Gum Disease
Hormonal changes and diabetes during pregnancy can cause pregnancy gingivitis (inflamed, tender and irritated gums)—about 75% of pregnant women end up with it. Left untreated, gingivitis can become periodontitis, an even more severe form of gum disease that leads to actual bone loss. Older mothers have a higher risk of gum disease in general, and research has linked preterm delivery and low birth weight to gingivitis—sufferers were seven times more likely to have either or both conditions. Researchers also estimate that advanced gum disease could be linked to about 18% of premature births in the United States.
Gum disease may also contribute to preeclampsia, a potentially dangerous condition that affects about 5% of pregnant women, leading to a sharp increase in blood pressure. The only cure for preeclampsia is giving birth, which can put the baby at risk if it happens prematurely. Additional potential complications of preeclampsia include hemorrhage, stroke, and kidney failure. A handful of studies have linked gum disease with preeclampsia, but more research is needed to show a true cause-and-effect relationship.
Acidity & Dry Mouth
Not every pregnant woman has morning sickness, but if you are one of the unlucky ones, keep in mind that along with nausea, stomach acid can make its way into the mouth and erode your teeth. Try rinsing your mouth with water or a fluoride mouthwash to help control the acidity level. This is not only a protective measure for your teeth but may help with nausea a bit as well.
Dry mouth during pregnancy can put pregnant women at higher risk for tooth decay and dental infections. Stay hydrated by drinking plenty of water and chewing sugarless gum to enhance saliva production—try to find sugarless gum sweetened with xylitol, which has been shown to be effective in preventing cavities.
If you're hungry a lot—which is not unheard of while pregnant—frequent snacking keeps teeth in constant contact with sugars. Bacteria feed on these sugars, speeding up acid production which creates more opportunities to weaken a pregnant mom's tooth enamel. Be aware of your snacking habits and be sure to rinse your mouth frequently with water after eating or drinking.


How Does Mom's Oral Health Affect Her Baby?
It's quite simple: the bacteria in Mom's mouth is the link to the baby's health. When a pregnant woman has excessive oral bacteria, pathogens can enter the bloodstream via the gums, travel to the uterus, and trigger the production of chemicals suspected to induce preterm labor. After the baby is born, a mom in poor oral health can still pass harmful bacteria to her newborn in a process known as vertical transmission. This can lead to negative dental consequences down the road for the baby—no one wants to see an active toddler with cavities. 
Good oral hygiene—brushing at least twice a day with fluoridated toothpaste and flossing at least once each day—is your own insurance policy to reduce the risk of dental infection in your newborn baby. Good nutrition and balanced meals limiting acidity and sugar have the most benefits for both Mom and baby. 
Most important of all, don't forget that when you're brushing and flossing during pregnancy, you're doing it for two! If you have any questions or concerns about pregnancy and your dental health, don't hesitate to contact Today's Dental today!
The content of this blog is not intended to be a substitute for professional medical advice, diagnosis, or treatment. Always seek the advice of qualified health providers with questions you may have regarding medical conditions.
Written by Jonas E. Gauthier