Dental Implants: A Brief History of Tooth Replacement Innovation
Posted on October 13th, 2022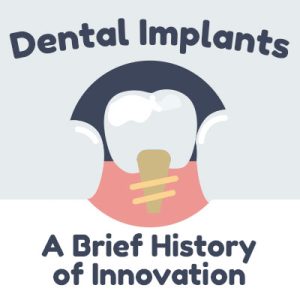 Today's dental implants boast a long-term success rate of near 97%. Because implants support surrounding teeth, encourage new tissue growth and continued bone formation, and give patients back full chewing ability and a complete smile, they have become the industry standard for tooth replacement. 
Today, your Pineville dentist, Dr. Jonas Gauthier at Today's Dental Pineville, would like to share some interesting history about dental implants and how we got to where we are today.
History of Dental Implants

4,000 Years Ago

:

The first record of temporary dental implants were bamboo pegs used to replace missing teeth in China.

3,000 Years Ago

: The first recorded case of a metal replacement tooth (a copper peg) fixed to a jawbone occurred in the mouth of an Egyptian king. Experts believe it may have been placed after death due to how painful placement would have been to a living person. There is also evidence that the Egyptians tried to stabilize teeth with ligature gold wire around this same era.

2,300 Years Ago

: An iron tooth was found among real teeth in a Celtic grave in France. Experts again concurred replacement teeth like these were likely to have been placed after death.

2,000 Years Ago

: People replaced missing teeth with human teeth purchased from underprivileged people or teeth stolen from corpses or animals. Teeth like these would be rejected by the host due to infection.

1,350 Years Ago

: An excavation of Mayan ruins in Honduras uncovered a jawbone with what may be the oldest recorded permanent tooth replacement using seashells. The replacement tooth had actually begun the process of fusion with the jawbone, indicating that it was placed during life, not after death.

800 AD

:

A stone implant was found among cultural artifacts from early Honduras.

18th Century

: A European doctor implanted a still-developing tooth into a rooster – and the tooth integrated with the rooster's tissues.

1886

: A porcelain crown mounted on a platinum disc, silver capsules, corrugated porcelain, and iridium tubes were some of the materials to make implants during this time without much success.

1930s

: Drs. Alvin and Moses Strock are believed to be the first to place the first endosteal (in the bone) implant made of a biocompatible metal.

1940s

: A number of different doctors continued to experiment with and design implants made of different types of metal, perfecting the design along the way to allow for greater stability in the jaw.

1952

: A Swedish orthopedic surgeon named Branemark discovered titanium fused and regrew bone while studying blood flow in rabbits.

1960s

: The 1960s saw more innovations in implant design from many different doctors. Implant design expanded to allow for placement into the maxilla or the mandible and to accommodate more than one missing tooth. 

1965

: Branemark placed his first titanium implant into a live human volunteer. Branemark continued to research bone healing, performing experiments and publishing studies, eventually making dental implants a commercial endeavor in 1978. 

1980s

: The 1980s ushered in the use of titanium for implants, which have continued to improve to the present day. Recent developments include antibiotic coatings to prevent infection and even more biocompatible materials like zirconia and ceramic.
Today's Dental Pineville can give you all the information you need about the history of implants and how they exist today and everything they can do to bring back your full, healthy smile. If you are curious to discover more about implants or wonder if you could be an implant candidate, contact us today!
The content of this blog is not intended to be a substitute for professional medical advice, diagnosis, or treatment. Always seek the advice of qualified health providers with questions you may have regarding medical conditions.
Written by Jonas E. Gauthier