Dental Bridges 101
Posted on November 27th, 2020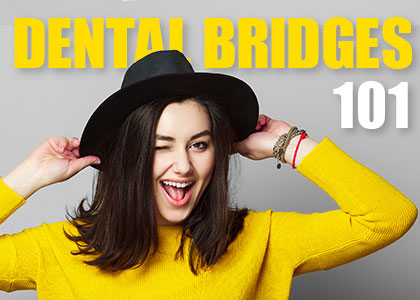 A hole in your smile is never a positive thing. It negatively affects physical appearance, eating, speaking, and your overall sense of confidence and well-being. Let Today's Dental bridge the gap between where you are with your smile and where you want to be!
A missing tooth or teeth can also cause jaw pain and bite misalignment. Without a full set of teeth, your other teeth tend to move into the empty space, causing unnatural alignment in your bite and jaw—which can be very uncomfortable and can lead to bigger headaches and TMJ/TMD problems. 
Dr. Jonas Gauthier shares how each tooth plays an important role in your health and everyday life, and how dental bridges can restore your smile and the function of your teeth.
Types of Bridges
Depending on your needs, there are three common kinds of dental bridges that your dentist may recommend. The difference between each type of bridge is how they are installed and secured.
The core of every bridge is the false tooth or teeth that replace those missing. Today these are usually made of quality porcelain and perform daily functions just as well as your natural teeth would-whether you are eating, speaking, or flashing a smile!
Bridges use the teeth on either side to secure your artificial tooth or teeth in place. Sometimes they involve a crown or two over these neighboring teeth and sometimes not. These neighboring teeth – called abutment teeth – are very important. The type of bridge you get will depend on how many abutment teeth are used in your bridge.
A traditional bridge

is supported by two neighboring teeth, each covered in a crown. Your false tooth is suspended in place between the two crowns. Traditional bridges are the most common type.

Cantilever bridges

are not as common but can be used when your missing tooth only has one abutment tooth nearby. Like a traditional bridge, the cantilever bridge uses a crown on the abutment tooth, bonded to the false tooth to keep it in place.

A Maryland bridge

has no crowns on the neighboring teeth. This bridge uses metal wings on the side of the false tooth and bonds those wings directly to neighboring teeth for support.
Bridges vs. Dentures vs. Implants
When looking into tooth replacement options, you may wonder what the differences are between bridges, dentures, and implants. Bridges and implants are "fixed" dental restorations, which means they cannot be removed.  Dentures are generally removable.
Dental bridges are also usually cheaper than implants and they can look completely natural. Bridges are a good option if the teeth next to your gap would need a crown regardless, or if the gap has been there for quite some time.  Not every patient is a good candidate for implants, which require a very healthy jawbone and gums to install false tooth roots.
Getting A Bridge
To prepare your mouth for a bridge, the doctor will clean and shape any abutment tooth or teeth in the area your bridge will be placed. The abutment teeth are essential to the permanent fit and function of the bridge. Once you have a bridge, it needs to be cleaned and cared for just like your other teeth: brush twice a day, floss once a day, and come to see us twice a year.  If you're ready to restore and improve your smile, contact us at Today's Dental to make an appointment today!
The content of this blog is not intended to be a substitute for professional medical advice, diagnosis, or treatment. Always seek the advice of qualified health providers with questions you may have regarding medical conditions.
Written by Jonas E. Gauthier